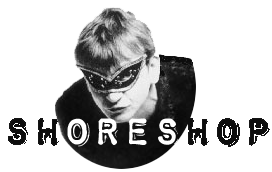 ---
From 'New Illustrated Rock Handbook' (P.59)
Ted Smart and Mike Clifford
Salamander Books Ltd (1992)
The Fall
UK group formed 1977
Original line-up: Mark Smith (vocals), Tony Friel (bass), Una Baines (keyboards), Martin Bramah (guitar), Karl Burns (drums).
Career: Formed in Manchester, group were contemporaries of Joy Division, OMD and Human League, but with grittier approach and sound. Inspired and driven on by vocalist Mark Smith's blank verse rap/rant style, the music embraced punk, R&B and rockabilly in fierce rough'n'ready amalgam to create growling hybrid. debut single, Bingo Master's Breakout was fast, direct and funny, while concerts were ramshackle and riveting - all preconceptions of rock'n'roll tradition and professionalism were jettionised in favour of brutal realism and haphazard spontaneity. Two live tracks on Short Circuit compilation album preceded the departure of bassist Tony Friel and keyboardist Una Baines, replaced by Marc Riley and Yvonne Pawlett.
This line up - still featuring original members Martin Bramah and Karl Burns released ironic It's The New Thing single and ferocious Live At The Witch Trials debut album, which was recorded in a single day!. Soon established as leading as UK independent anti-rock cult group with European tours, second LP Dragnet and string of vitrolic but irresistible singles
Bitter attack of both lyrics and music-especially after Pawlett left to be replaced by second guitarist-often masked scathing wit which bypassed critics and fans alike. But throughout following four years, continued to tour extensively with ever-changing line-up after Bramah left to form Blue Orchids with Baines.
Bassist Marc Riley took over on guitar and band released six further LPs before he too left, forming Marc Riley and The Creepers. Fall leader Smith met and married Californian Brix, who then joined Fall as guitarist, adding both glamour and pop appeal. Joined Beggar's Banquet Records for The Wonderful And Frightening World Of The Fall and This Nation's Saving Grace. They continued to evolve and adapt throughout numerous line-up cahnges, but without loosing sight of Northern roots. Eventually The Fall added a second female to the group, American Marcia Schofield, on keyboards and vocals, and released surprise UK single with cover of Ghost In My House.
Teasing and adventurous, The Fall are an acquired taste, but have outlasted most of the sceptics, as espoused by 1990 release Extricate. New four-piece line-up, with Smith, Craig Scanlon, guitar, Steve Hanley, bass and Simon Wolstencroft, drums, featured on Shiftwork(1991) and for Christmas 1991 dates in the UK, suggesting a further period of impulsive musicology.
An album discography accompanies the piece, as does a pic of This Nation's Saving Grace album cover (courtesy of Beggar's Banquet)
---
< Main | Welcome | Press | Record | Live | Articles | Blah | Contact | Links >