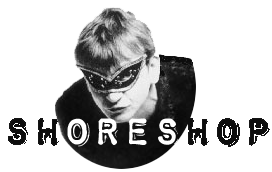 ---
Terror in the Tap Room
The Fall
Shiftwork
Select - Album of The Month (May 1991)
By his signs ye shall know him. The English language is bent out of shape into something new, hunchbacked and fascinating. Garage guitars pursue a flailing atavistic path leading to enlightenment through degeneration. The air is filled with howling, B&H smoke and the smell of stale ale. Yes, Mark E. Smith has made a new L.P. And it's astounding.
Smith's marraige to Fall collaborator Brix broke up in 1989 and he fired keyboards player Marcia Schofield and guitarist Martin Bramah last year, but these traumas have done little to delay The Fall's jihad against convention. 1990's acclaimed 'Extricate' junked some of the over-wrought complexities which accompanied Smith's flirtations with the stage, and 'Shift-work' takes theless-is-more approach still further to dazzling effect. This is portable Fall, survival kit Fall, no-passengers Fall, and Smith's tap room poetry hasn't enjoyed a better ride since The Fall's three-star jumpers days. In short, he's got some of the old bile back in his belly, and side one of 'Shiftwork' (subtitled 'Earth's Impossible Day') lets fly in spectacular fashion.
'Idiot Joy Showland' is an instant classic of textbook Smithism. It's a nightmare charabonic trip through theme park England via Disneyland and Flanders, in the company of "idiot groups with no shape or form/ out of their heads on a quid of blow". 'So what about it?' terrorises a neo-House groove and 'Pittsville Direkt' revisits 'LA' territory, finding Necropolis in New York and Skegness.
On side two ('Notebooks Out Plagiarists', as Smith modestly has it), The Fall free themselves to explore a new side to the old prole art threat. 'Rose' and 'Sinister Waltz' echo the sour poignancies of 'Bill Is Dead' from 'Extricate', and the title track, sparse and shivering, is a revelation: "I thought shift-work would work/But it's good as broken us apart". And you don't have to be Nigel Kennedy to understand that one. It would be false, though, to imagine that Smith - the English language's Dr. Crippen - is pulling a craven trick with a load of songs about his separation from Brix. This is not the case, for the ballads are layered with extraneous noise as Smith sings through tinny walkie-talkies and megaphones, and the sentiments are all curdled. If only Sting dealt with his private life like this.
A hard year seems to have taught Smith something, but not how to whine: instead, it's interesting to ponder that The Fall's bittersweet, even feminised side has only emerged since Brix and Marcia went. House producer Robert Gordon lends something of a dance sheen to three tracks on 'Shift-work', but the beat is never intrusive. Instead Smith and crew co-opt Gordon's pocketbook electro into their own twisted scheme of things, a far more satisfactory collaboration than 1989's patchy link-up with Coldcut.
Here is hatred, stupidity, class warfare, Freddie And The Dreamers and Daytime UK, and Smith's latest critique of England in decline is his most explicit in years. 'Shiftwork' is also The Fall at their funniest, most pertinent, most cruel and most brilliant. One of the albums of the year already, and it's only April.
Review by Andrew Harrison
---
< Main | Welcome! | Forum | Press | Record | Live | Articles | Blah! | Contact | Links >