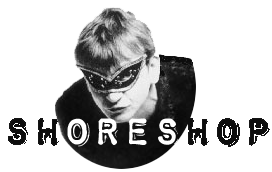 ---
The Fall
London Astoria 2
NME Review (Jan '99)
By Gavin Martin
Back at ground zero, having sacked/been deserted by the foot soldiers of his old Rhythm Revue, riffmeister General M Smith returns to the London stage. And Mark E's got a brand new bag. Of songs'n'slogans. Of musical friends and theatrical tricks. Of withering invective and cranky eccentricity. And a few jokes.
Hark! because it is the beautiful noise of a whippet-training bingo barker shouting the odds over electro-popping garage punk and synthesised distortion. In other words - the jukebox rebellion continues unbated.
In two decades of Fall War, Smith's scorched-earth policy can seldom have been so vigoursly applied. Do these new songs have titles or are they improvised works in progress? who careshen the blend of the weird and familiar augurs a vintage era? Yet the joyful grime and voluble quakes stirred up by his new hands couldn't come from any old outfit. It's all firmly rooted in the frontman's alchemical/ shamanic role.
Oh sure, Mark E is a figure of fun with his crow's feet mush, his OAP stoop and schizoid configurations. He starts out yelping like a Teletubby, proceeds to drawl and slur like the lazybones he evidently is not and ends up in cat-screeching hysteria-"Get the fuckers out of your house/get them out of your house".
Certainly he's a direct link to howling-at-the-moon rockabilly nutters and psychedelic derelicts of old. At one point the electronic workshop bubbling beneath the surface breaks through and he goes into a lovely lysergic interlude. But there's so much more. With his love of letting the band find their true level, rejoicing in the textures and abrasions others bleach out, he's like the James Brown or Miles Davis of a post Krautrock Euro-Underground.
Imagine a performer who can afford to jettison enough classic songs to sink a continent and still come up sounding fresher than the Next Big Thing. That's Mark E Smith - a great national resource and an exemplar of creativity in abundance. Ignore at your peril.
---
< Main | Welcome! | | Press | Record | Live | Articles | Blah! | Contact | Links >