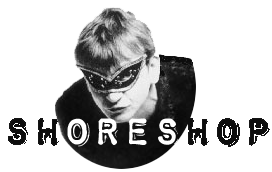 ---
The Fall
Cerebral Caustic
Review By Roy Wilkinson
(Select April 1995)
There's a school of thought that says, as with the late Peter Cook, it's quite enough for Mark Smith to continue being Mark Smith and The Fall being The Fall. But even the most distinctive of showbiz fixtures can't rely on merely turning up.
Despite the return of Brix to the Fall ranks and the chorus-stuffed likes of 'Feeling Numb', 'Cerebral Caustic' is mainly about Smith switching on the production line that welds nagging riff to confounding prose excerpt. Even so, there are still two great Fall moments here. The first comes with 'Life Just Bounces', which hoists a heroically simple ascending and descending riff while Smith hits his tangential heights: "On TV today somebody claimed their dog had been molested by a textile chemist." However, it's hardly a new song - a different version appeared on the 'White Lightning' EP.
A more unqualified success is 'Bonkers At Phoenix'. While Smith ponders festival carpark and burger provisioning. Brix's bizarrely FX-drenched voice conjures the kind of unexpected Fall poignancy that illuminated 'Bill Is Dead' and 'Edinburgh Man'. Elsewhere, though, there's too much standard Fall-a-billy - the kind of thing that, in the unlikely event of Don Howe ever providing post-gig Fall analysis, would have him grunting excitedly about "Hanley and Scanlon's marvellous little engines".
(three squares out of five)
< Main | Welcome! | Forum | Press | Record | Live | Articles | Blah! | Contact | Links >