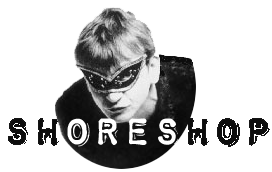 ---
WHATEVER YOU DO, DON'T ENJOY IT
The Fall
Queen's Hall, Edinburgh
**** (Four stars)

Review by Alstair Blair (The Scotsman)

The concept of a "greatest hits" or "oldies" set is unknown to The Fall. Leader and vocalist Mark E Smith loathes nostalgia and complacency, so every tour concentrates single-mindedly on their most recent material. The incredible thing is that, even after 30 plus albums and 22 years, The Fall show no signs of running out of steam. The driving, propulsive riffs that poer this show are as compelling as those of the last tour, and the tour before that.

The current line up of a bald, hulking drummer, two relatively fresh- faced young guys and Smith's girlfriend, Julia Nagle, on keyboards is a strange, un-Fall-like sight after so many years of the Scanlon/Hanley/Wolstencroft axis. the guitarist in aprticular is enjoying himself, something the guv'nor claimed always to have discouraged in his bands. But Smith himself is decidedly raddled, almost on the verge of turning into one of the hobgoblins that adorned their early sleeves. Sloping across the stage, hand in pocket, he barks his words out, reading the one's he can't remember from bits of paper on the drum riser and ostentatiously checking his watch.

The self-imposed ban on old material slips for the finale, Big New Prinz, an exhilarating number that has been a showstopper since 1988, and one that even Smith is loath to drop from the set. The road crew and Elastica bounce up and down excitedly beside them, ending their evening on a definite high. Elastica had been the shows surprise guests, making one of their first appearances for four years to answer the question "what have they being doing all this time?" the answer seems to be writing more bristly, brittle songs that stop and start in odd places and sounded good at high volumes. Time well spent really.
---
< Main | Welcome! | Forum | Press | Record | Live | Articles | Blah! | Contact | Links >